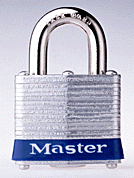 LOCK/CABLE OPTIONS:
All lock/cable security packages use as standard a key lock, rekeyable or non-rekeyable, from Master Lockô.
Each lock comes with two keys.
Locks can be ordered in any of the following configurations:
Keyed Differently: Locks have a different key for each lock.

Keyed Alike: Locks have a common key which will open all locks.

Master Keyed: Individual locks keyed differently with
master key which will open them all. (Additional charge - $3.00 per lock)
Cable specs: The cable is 3/16" diameter aircraft quality steel, vinyl coated to 5/16" diameter with a breaking strength of 4000 lbs. Cables come in two styles: loop or point-to-point. Loop style cable are available in three lengths - 20', 10', and 6'.
Point to point cable are available in 10' and 6' lengths. The cable is available in putty or black, depending on the system package. Special orders are accepted.